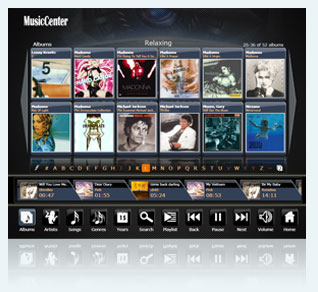 ZenPoint MusicCenter
ZenPoint MusicCenter provides a complete and comprehensive overview of your music. It's easy to find the music you're in the mood to hear. Create your own playlists with your favourite music as easy as ABC.

The MusicCenter is also great for parties, with one click, you can set your MusicCenter into Party Mode, and it will act like a Jukebox.

It has never been easier to find a specific song.


Playlists and themes
It's possible to create your own playlists and switch between them at runtime, or make your own themes.

You can add as many playlists and themes as you like, and it's also possible to setup action rules for every playlist.

If the current playlist is empty, a random song from your music collection will be played.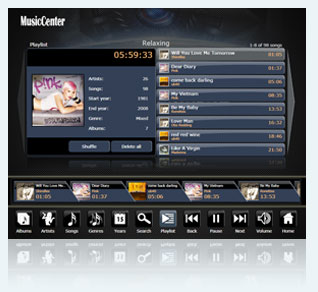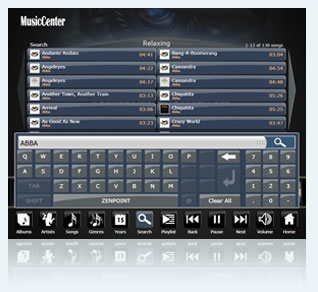 Search
You can find a specific song by searching through your music collection with a free text search.

You can search for an artist, album or a song title. The free text search supports auto completion.
MusicCenter Features
Albums Navigation
Artists Navigation
Songs Navigation
Genres Navigation
Years Navigation
Free Text Search
Song Fading
Party Mode Support
Jukebox Support
Create your own themes
*.mp3, *.flac, *.ogg support
Remote control support
Rip all your music CD's

IPad,IPhone and Ipod controller
Blackberry and Android controller
Easy Administration
Embeded Cover Support
File Cover Support
Shuffle Playlist
Random Songs
Volume Control
Title Ordering
Track Ordering
Play Now Support
Play Next Support

Multi Languages
Dual monitor support
Create Your Own Skin
Many Difference Effects
Unlimited Playlists
Add Your Own Language
Playlist Count Down
Statistics
Delete All Songs At Once
Part Of The DigitalCenter
Mouse / Keyboard Support
Touchscreen Support